Philadelphia, PA (January 30, 2015)–This Saturday night at the 2300 Arena, Grayson Blake will take on Anthony Prescott in a 6-round Jr. Middleweight bout that will serve as a local attraction on a card promoted by King's Promotions.
The main event will see undefeated Prichard Colon (12-0, 10 KO's) of Orocovis, Puerto Rico taking on Hector Munoz (23-13-1, 15 KO's) of Albuquerque, New Mexico in the 8-round Jr. Middleweight fight.
Blake of State College, PA has a record of 5-3 with two stoppages is trying to break three-fight losing streak and is very confident going into the bout with Prescott.
"Training was wonderful . I was in camp for a month and a half. I have a new trainer, I have been on a new nutrition regimen and I feel faster and stronger," said Blake.
He has respect for Prescott but Blake feels he has the style to come out on top.
"He is strong but we will pressure, pressure, pressure him and stick to our game plan."
Even though Blake is a Pennsylvania resident, fighting guys from the area and especially New Jersey is extra special.
"It is good for me to fight people who are close and from the area. Most of my family is from New Jersey and they are former boxers."
With his new team around him, Blake is believes he has what it takes to come out on top.
"No matter what we do, I plan to take him into deep waters and drown him. I am coming back to gain my respect in the ring."
In 6 round bouts:
Raynell Williams (5-0, 3 KO's) of Cleveland, OH will battle Ryan Picou (2-4) of Las Vegas in a Lightweight bout.
Kyrone Davis (5-0, 3 KO's) to battle Jonathan Garcia (4-11, 1 KO) in a Middleweight bout
In 4 round bouts:
Earl Newman (3-1, 3 KO's) of Brooklyn, NY will do battle with Yuwshua Zadok (2-2-1) of Atlanta, GA in a Cruiserweight fight.
Jamatay Clark (3-0, 3 KO's) of Cincinnati, OH will fight Dominique Foster (2-6-1) of Las Vegas, NV in a Welterweight fight.
Antonio Russell of Capitol Heights, MD will make his pro debut against Gabriel Braxton (2-7, 1 KO) of Red Oak, GA in a Bantamweight fight.
Stephen Fulton (3-0, 1 KO) of Philadelphia will take on Eric Gotay (3-2, 1 KO) of the Dominican republic in a Super Bantamweight bout.
Tickets for this great night of boxing cost $100, $75 and $50 and can be purchased by calling 610-587-5950 or www.hboxing.eventbrite.com
THERE WILL BE A PRESS CONFERENCE THAT WILL BE FOLLOWED BY THE WEIGH IN ON FRIDAY, JANUARY 30 AT 5 PM AT THE STADIUM HOLIDAY INN (900 PACKER AVENUE)
The 1st bout will start at 7 PM with the doors opening at 6 PM.
By Marc Raimondi & mmafighting.com
James Jefferson was tentative the first time he saw Team Fighting Championship. It was kind of like MMA, except there were 10 men in a ring and they were all fighting each other at once.
"I cringed," Jefferson told MMAFighting.com. "Until I really experienced it, watched all the film, watched how they ran it, I was hesitant."
The thing Jefferson, the president of New Jersey-based MMA promotion Global Proving Ground, had to do was separate Team Fighting Championship and mixed martial arts completely. Sure, there are elements of MMA in TFC. But, in his mind, the violent, 5-on-5 spectacle is not really MMA. It's something different altogether.
"It's a group fight," Jefferson said. "It's a gang fight. It's more or less a barroom brawl without the bottles."
And it's coming to pay-per-view soon. Beginning Jan. 23, Team Fighting Championship 2, taped last month, will be available via In Demand and TFC 3, which was held Friday in Latvia, will be distributed on PPV via In Demand in February. The teams are divvied up by country, with the U.S., Russia, Brazil, the United Kingdom, Poland and Latvia all represented.
TFC is owned by a corporation in Hong Kong and Jefferson's organization, GPG, is the broadcast rights holder and in charge of recruiting fighters. The promotion adheres to the unified rules of mixed martial arts for the most part. But it is done elimination style. When a fighter taps or gets knocked out, he is out and his team is down a man. That can lead to 2-on-1 or 3-on-1 — or worse — situations. There are instances where an athlete can get caught in a chokehold and kicked in the face at the same time.
A five-man team cannot exceed a combined weight of 500 kilograms (or just over 1,102 pounds). That's an average of about 220 pounds per fighter. The format is round-robin tournament-based, so teams will be competing multiple times in one day. The winning team gets 5,000 euro and the runner-up 2,500.
There is no headbutting, biting, spitting or kicks to the groin or Adam's apple. Everything else is allowed. TFC is illegal in the United States and most other countries with sanctioning bodies.
Is this too violent? Jefferson acknowledges "there is a greater danger level" than typical MMA. But he also doesn't think something like this should be banned.
"You could get injured in a car accident," he said. "These are professional athletes. They're trained, they're skilled."
Similar competitions to TFC are popular in Russia and other parts of Eastern Europe. Hip Show, which has aired on AXS TV in the U.S., is team MMA with an obstacle course — kind of like fighting meets American Gladiators. At least those athletes wear headgear. They don't in TFC.
Jefferson said the level of fighters in Team Fighting Championship is comparable to a Bellator undercard. The U.S. group trains at Peak Submission in St. Mary's, Ohio with coach Jody Poff. TFC tries to stay true to the team aspect of things by keeping its participants together under one coach.
"It's kind of like going into war," Jefferson said. "You need to have a fighter looking up to somebody."
Team Fighting Championship is held in a 30,000 square-foot arena that is completely empty. The display is meant for television viewers only. The fight takes place in a 40 by 40 ring with five referees. Each event costs $200,000 to put on.
Jefferson believes TFC could find some footing in the United States, provided its promoters don't try to sell it as MMA. Pay-per-view is the first step.
"If the promotion keeps listening to the good advice it's getting and grows, it could get pretty popular," he said. "This is a new, different sport that gives combat athletes another way to make money."
by Kirik Jenness at mixedmartialarts.com
No promotion has sent more people to the UFC than Lou Neglia's Ring Of Combat. To date, the East Coast promotion has graduated over 90 alumni to compete in the UFC. Not only have they sent the most, to the biggest promotion, but all Ring of Combat alumni are having successful careers.
The latest ROC veterans actively competing in the UFC include middleweight champion Chris Weidman, Al Iaquinta, Ryan LaFlare, Eddie Gordon, Costas Philippou, Edson Barboza, Uriah Hall, and most recently, Chris Wade.
A lot of things turned 50 this year, including Buffalo wings, The Ford Mustang, Sandra Bullock, BASIC, G.I. Joe, Lucky Charms, Pop Tarts, Jeopardy, and Rudolph the Red-Nosed Reindeer. On January 23, Lou Neglia brings Ring of Combat 50 to east coast fight fans at the Tropicana Casino & Resort in Atlantic City, NJ. The fight card is stacked from top to bottom and will feature top MMA prospects and SIX title bouts.
As a former world kickboxing champion, Lou knows what it takes to help build fighters.
"The recipe is very simple," said Lou. "Competitive fights challenge you. If you're not challenged, you won't change. You get more out of losing competitive fights by improving your game. You gain nothing winning a hand-picked opponent for an easy fight."
"The UFC has taken a fighter that was 8 wins with 4 losses as opposed to a fighter who was undefeated at 10-0 in another promotion. The matchmakers at UFC know just as well as I do that it's who you fought and how you fought that matters. I look at these matches as fan myself. I put two solid fighters together that not only fans want to see in action but fights that I would like to see."
UFC Fight Night: McGregor vs. Siver on January 18, 2015 will feature a bout between ROC vets Uriah Hall and Costas Philippou. The pair already fought once at ROC 34, with Philippou taking a majority decision.
"When I first heard that the UFC is putting on Hall vs Philippou, I was very proud," said Neglia. "These guys are true champions and gave their all at Ring of Combat. The have both come so far since then and I know they are going to put on a good show for the UFC."
With Lou's matchmaking skills and top pedigree of fighters, many wonder why he hasn't made the jump to go head to head with the UFC, but for Lou, that is an easy answer.
"Not too long ago, I was approached by three very successful businessmen," said Lou. "They asked me if I wanted to join forces with them in the world of MMA and their goal was to compete with the UFC and eventually become bigger than them. I thanked them for their time but declined. I am very content with what I am doing and have no desire to compete with the UFC. They have an all star team with Dana, Lorenzo, Marc Ratner, Joe Silva and are doing great things in the world of combat sports. I enjoy finding great but unknown talent and developing them for the world's biggest stage and I am happy with the place Ring of Combat has in MMA history, being the american idol of the sport."
"Our next event is a very special one for Ring of Combat. Not many promotions have made it to their 50th event and many have not produced the superstars that Ring of Combat has. I am very proud of all Ring of Combat alumni, but also very proud of the new generation of ROC fighters who by accepting tough fights in the Ring of Combat, prepare themselves for the road that leads to the Octagon. I'm confident the new generation of ROC alumni will join the others and become stars of the sport."
Philadelphia (August 22, 2014)–After successful inaugural show, Tuesday Night Fights is back for the 2nd installment on Tuesday, September 16 at the 2300 Arena in South Philadelphia.
The show, which is promoted by Joe Hand Promotions and D and D Management is a pro-am show that will feature some of the best talent in the Philadelphia region.
Headlining the professional portion of the card will be undefeated Super Middleweight Derrick Webster battling Taneal Goyco in a bout scheduled for 6-rounds.
Webster of Glassboro, New Jersey has a record of 17-0 with 8 knockouts and is one of the top prospects in the area.
He has campaigned between Middleweight and Light Heavyweight but has settled in at Super Middleweight.
He has solid wins over Romaro Johnson, veterans Darnell Boone, Lester Gonzalez and his last bout when he won a 6-round unanimous decision over Michael Gbenga on May 30 in Philadelphia.
To say Goyco has been matched tough is an understatement. in his 14 pro fights (6-7-1, 3 KO's) he has taken on 8 fighters that were undefeated at the time. He has wins over Dennis Morris (1-0); Frankie Filippone (14-2-1) and Jeremy Trussell (8-0). In his last bout the native of Philadelphia was stopped by John Magda (6-0) in four rounds on June 27 in Las Vegas.
Fresh off his exciting pro debut in the first Tuesday Night Fight's card, Avery Sparrow (1-0) of Philadelphia will square off with Pedro Andres (1-3, 1 KO) of Bridgeton, NJ in a four round Featherweight bout.
Dante Wright of Philadelphia will make his pro debut against Lionel Charles (0-3) of New York in a four round Jr. Middleweight bout.
Wright was a 4-time Philadelphia District Golden Gloves and National PAL Tournament champion.
Jerome Conquest of Philadelphia will make his pro debut against William Harris (0-3) of Darby, PA in a Jr. Welterweight contest.
There will be 7-amateur bouts that will be a prelude to the professional card that will be headlined by national Golden Gloves champion Christian Carto and Eric Gordon in a 3-round bout in the 110-pound weight division.
Tickets for this great evening of boxing are $50 for reserved and $30 for General admission and can be purchased online at www.2300arena.com or by calling 215 364 9000.
The 2300 Arena is located at 2300 South Swanson Street (Corner of Swanson & Ritner).
By Marc Abrams of www.15rounds.com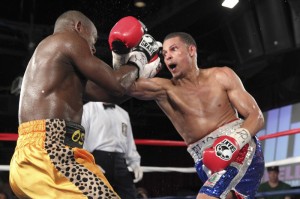 Former Featherweight titlist Elio Rojas won an 8-round unanimous decision over Robert Osiobe in a Super Lightweight bout at BB King's Blues Club in New York City.
Rojas dominated the fight and Osiobe was docked a point in round 5 for holding.
Rojas, 136.6 lbs of Santo Domingo, DR won by scores of 80-71 twice and 79-72 and is now 24-2. Osiobe, 137.8 lbs of Las Vegas is now 14-10-4.

Bryant Cruz scored a 6-round majority decision over Jose Morales in a Jr. Lightweight bout.
Scores were 60-54, 59-55 and 57-57 for Cruz, 130 lbs of Port Chester, NY and is now 12-0. Morales, 130 lbs of Denver, CO is now 7-6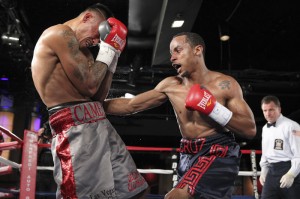 Louis Cruz got a tough battle but won a 6-round unanimous decision over Cameron Krael in a Super Lightweight bout.
Cruz, 140 lbs of Bronx, NY won by scores of 60-54, 59-55 and 58-56 and is now 9-0. Krael, 140 lbs of Las Vegas, NV is 5-6-2.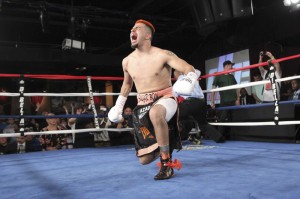 Junior Younan destroyed Marlon Farr just 26 seconds into their scheduled 4-round Super Middleweight bout.
Younan froze Farr with a left hook and then landed 5 unanswered blows until the bout was stopped.
Younan, 168.2 lbs of Brooklyn is now 6-0 with 5 knockouts. Farr, 167.3 lbs of Zephyrhills, FL is now 4-7.

Rafael Vazquez scored 5th round stoppage over Derrick Wilson in a scheduled 8-round Jr. Featherweight bout.
Vazquez dropped Wilson in round three and the fight was stopped at 1:20 of round round five.
Vazquez, 122.4 lbs of Brooklyn, NY is now 12-1 with 10 knockouts. Wilson, 122.6 lbs of Ft. Myers, FL is now 10-7-2.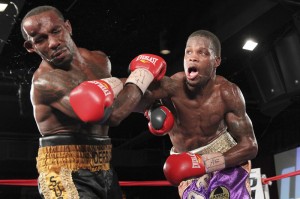 Derrick Findley scored a mild upset as he dropped Lamar Russ twice en route to a 8-round unanimous decision in a Super Middleweight bout.
Findley dropped Russ with a big over hand right in round four. In round six, Findley suffered a grotesque Hematoma but he was able to fight through and drop Russ again in round seven from the same overhand right. Russ for his troubles was deducted a point in the 7th for holding.
Findley, 161.6 lbs of Gary, IN is now 21-13-1. Russ, 162 lbs of Fayetville, NC is now 14-2.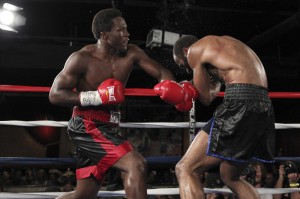 Travis Peterkin remained undefeated with a 6-round unanimous decision over Lamont Williams in a Cruiserweight bout.
Peterkin, 178.6 lbs of Brooklyn, NY won by scores of 60-54 and 59-55 twice and he is now 12-0. Williams, 180 lbs of Sacramento, CA is now 5-5-1.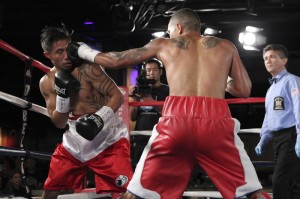 Jonathan Alonso scored a 3rd round stoppage over Jose Gomez in a scheduled 4-round Jr. Welterweight bout.
Alonso hurt Gomez with a right to the body that crumpled him in the corner and the bout was stopped at 1:52 of round three.
Alonso, 139.4 lbs of Madrid, Spain was making his pro debut. Jose Gomez, 136.6 lbs of Kent, WA is now 3-8.
Photos by Ed Diller / Dibella Entertainment
READING, PA (JUNE 20. 2014)–When professional boxers say in interviews that they are "Born Fighters" sometimes its just bravado and sometimes it holds true.
For 27-year old Pat Kehoe it is the latter and through all of his trials, it has made him a better person as he prepares for his 2nd professional bout on June 28 when he takes on Danny Lugo (2-7, 1 KO) in a 4-round Welterweight at the Santander Arena.
He is promoted by King's Promotions.
In the main event, rising Jr. Lightweight
Frankie De Alba
(12-1-2, 4 KO's) will take on
Pablo Batres
(7-9-1, 2 KO's)
 in 8-round Featherweight bout.
Kehoe made a successful pro debut on April 18 with a 4-round unanimous decision over Shawn Sutton in Allentown, PA.
Getting to that bout was a long and bumpy ride that has made Kehoe a strong fighter both on the outside and inside.
As a child, Kehoe came from a dysfunctional family where physical abuse was common with his parents abusing alcohol.  Because of that, Kehoe spent different periods being homeless and in foster care.
In his teen years, trouble found Kehoe as he took the rap for a robbery and spent five years in prison.
"As soon as I went into prison, I knew I had to change my life,"said Kehoe.
"I immediately acted upon that and got by GED and took college courses.  I said to myself, I will never come back here."
Many in the prison system have those same goals but trouble continued to find them.  Not for Kehoe though.
Kehoe always had a liking for sports and gave Mixed Martial Arts a try.
He went 4-0 in as an amateur but wanted to improve his stand up game.
Kehoe then went to a boxing gym and his his next fight scored a devastating knockout.
"I then decided, I wanted to box and stuck with it."
Kehoe went 12-3 as an amateur and turned pro.
"I have a professional style and at age 27, I knew that this was the time to turn pro."
Kehoe, now lives a very stable life as he works in general contracting for a construction company and is happily married with a 3 year-old child with his 2nd child on the way.
"I cant wait to fight on June 28 as it means so much to me to fight in Reading as I know I will have great support."
In four round bouts:
Robert Ramos (1-2-1, 1 KO) of Allentown, PA will battle Rolnado Chinea (7-0-1, 4 KOs) of Lancaster, PA in a Lightweight bout.
Miquel Martinez (1-0) of Reading, PA will fight Alex Sanchez (3-4, 2 KO's) of Canden, NJ in a Jr. Middleweight bout.
Christian Molina (1-0) of Allentown, PA will fight debuting Jordan Morales in a Jr. Welterweight bout.
Benjamin Burgos (1-6-1) of Mount Pocono, PA will box Antonio DuBose (4-0, 2 KO's) of Philadelphia in a Featherweight fight.
Some of the best Amateurs in the area will be on display as there will be bouts the feature both male and female fighters.
Tickets for this special night of boxing are priced at $28, $48 and $78 and can be purchased at
www.kingsboxing.com
or by calling 610-587-5950
For media credentials, Contact:
Courtesy of George Portoulas from My MMA News
Azunna Anyanwu started with a perfect 4-0 professional record in mixed martial arts. After back-to-back losses, the 32-year old fighter out of Philadelphia, Pa., has strung together back-to-back wins in the Cage Fury Fighting Championships (CFFC).
Known as "The 8th Wonder", Anyanwu (6-2 professional record) is now the CFFC heavyweight champion and his first title defense comes against a familiar rival. George Portoulas from My MMA News had the chance to catch up with Anyanwu to discuss his upcoming bout at CFFC 37 on June 28.
My MMA News: Azunna first off, congratulations on becoming the new CFFC heavyweight champion. You won the belt at CFFC 32 over Joe Stripling back in February. Are you receiving any different treatment from fans or fellow fighters these days?
Azunna Anyanwu: "Yea I am getting a little bit more respect. A little bit different treatment and recognition being the champion and you know, it makes other people in the gym want to be the champion and strive to be better. It definitely feels a little bit more different."
My MMA News: You are going to be defending your title on June 28th at CFFC 37. Before we talk about your upcoming opponent, are you training any different for this fight now as a defending champion?
Azunna Anyanwu: "I train about two times a day. I always train hard, training harder now because keeping the belt is the hardest part. Getting the belt is the easiest part, keeping it is the hardest part because everyone wants that CFFC belt, everybody is bringing it to the next level. I got a big bulls eye on my back now being champion in a big organization, the number one regional organization in the east coast. My title's pretty big, you know, everyone wants to be the heavyweight champion, the baddest man alive, you know."
My MMA News: Going into this fight, who are you currently training with to get ready?
Azunna Anyanwu: "Right now I am training with Renzo Gracie Philadelphia, a little bit with Judo Movement in New Jersey, mostly with Renzo Gracie in Philadelphia with coach Daniel Gracie, he is a great coach and is showing me a lot of technique and helping me work out kinks in my game to get to that next level."
My MMA News: Moving onto CFFC 37, you are going to defending your title against someone familiar, Keith Bell, the two of you fought last year at XFE 22 with Bell being the victor. What do you need to do different in this rematch to win this time?
Azunna Anyanwu: "Yea man, that was a quick fight. I was coming off of a 19-month layoff which is no excuse, I always say once you are in that cage there are no excuses. I had an injury I was getting over and coming in, as for approach, he just caught me. He did what he had to do. I can't say I can try anything different. I come to fight, so if you're fighting then you better fight. I don't feel like I need to do anything different than I normally do."
My MMA News: Coming off of that loss to Bell, you had three more fights, the last two back-to-back wins in CFFC. How do you feel you have progressed since your last fight with Bell?
Azunna Anyanwu: "I've changed my game so much since that fight. I feel so much better, I dropped about 25 pounds. I am a better athlete and I have taken the fight game more seriously. That fight against Bell woke me up, I felt like I was untouchable. That's how all fighters who go undefeated feel, and that loss taught me a lot, like don't ever overlook somebody."
My MMA News: What advantages do you hold over your opponent going into this fight?
Azunna Anyanwu: "I think I can beat him anywhere. I can beat him in stand up, definitely beat him on the ground. I can beat him anywhere, I am a better athlete and a harder hitter. He may have knocked me out, he caught me in a good spot, I respect him for that, you gotta respect the man who can put the Zu down, props. But I am going to put you back down and I think that I am better than him anywhere."
My MMA News: You have the confidence which is always a good thing, and like you said everyone gets caught, how do see this rematch going down in your head?
Azunna Anyanwu: "It is going to an epic night man. In my head, I am coming out with that "w", the only way he will be able to beat me, is if he does again real quick, and, he is not going to do that to me again. I don't see him winning this match up in the heart of Philadelphia. I just don't see it."
My MMA News: Now Azunna, I know you have been fighting your entire career as a heavyweight. You mentioned dropping 25 pounds and getting more lean. Do you see yourself sticking in the heavyweight division or can we see a drop to the light heavyweight or middleweight division?
Azunna Anyanwu: "Right now, I see myself fighting at heavyweight for CFFC. If I do make it to the UFC and they need me to, I could drop to 205. With my bone density I feel more comfortable in the heavyweight division, I am leaner and quicker than most of the heavyweights, more athletic. Light heavyweight is a possibility but right now, I like to eat (laughing)."
My MMA News: Azunna, where can our fans follow you on social media?
Azunna Anyanwu: "Anywhere man. On facebook Zu Anyanwu (EigthWonder) on Twitter @Zu8Dub, Instagram Zu_Anywanwu "
My MMA News: Any shout outs before we let you go?
Azunna Anyanwu: "Renzo Gracie Philadelphia, Daniel Gracie and all the guys out there, Judo Movement in New Jersey, David Osaghae one of the best judo practioners around. Shout out to my sponsors Lemonade Big Heads, so many of them I can't remember. Shout out to CFFC for letting me fight for them and letting me showcase my skills. Shout out to my family and God of course."
ALEXANDER Surjko is hoping to boost his reputation outside of Russia with a high profile win against MMA star Paul Daley at LEGEND III in Milan.
Moscow-based Surjko is a big name in thai boxing in his homeland, but would get major attention around the world if he can defuse 'Semtex' Daley under kickboxing rules.
Surjko said: "I am ready and I want to show what I can do in Europe.
"Paul Daley is a big name in combat sports, and if I can beat him it will only be good for my career."
Former UFC and Strikeforce ace Daley is on a roll in kickboxing after racking up back-to-back stoppage wins over Shaun Lomas and Aleksandr Stetcurenko.
But Surjko holds major advantages in height and reach over the Brit and aims to use them in their super middleweight stand-off.
And if using his long limbs from distance proves ineffective, he said he will not be afraid to meet Daley head-on in the trenches.
"It will be a hard fight because he is very fast and has a hard punch, especially his left hook," Surjko said.
"He has had many knockouts and he isn't a grappler, so he is very comfortable with his striking, and I'm expecting him to try and catch me with the left hand.
"I want to see what he will do in the first round and fight him at distance.
"I have long legs, so I will be using kicks, teeps and jabs from long range.
"If that strategy works, I will continue with it.
"If it fails, I think I will fight with him on the inside."
Surjko added: "I think I have more ways than one to win, if I have to use them.
"I'm tall and he is short.
"And I've beaten a fighter like him before. Pawel Biszczak is very similar."
Ben Pontier
Ben Pontier Photography/Foto Expert Beverwijk
www.benpontier.nl
by Drew Archer
"I attended and graduated from Kansas State University in December of 2009. I have a Bachelor's of Science in Sociology."
Sociology is defined as the study of human social behavior, especially the study of the origins, organization, institutions, and development of human society.  As any pro wrestler can tell you, being able to understand humans and their social behavior, actions and reactions is a necessity to becoming a superstar in a business that is predicated on making a connection with the fans in the arena and making your mark on the wrestling community at large.  Most wrestlers get their knowledge of sociology and psychology and how to stir up a reaction from a live crowd from listening to the vets in the business that know every trick in the book.  For Luke Langley, one half of the KC Wolves, his college degree also adds to his overall pedigree as a pro wrestler and gives him a step up from most in that department.
But for Langley who was born in Fort Worth, Texas but spent most of his life in Overland Park, Kansas (just south of Kansas City) his interest and desire to get in the pro wrestling business started way before he got to college.  "I think everyone in this business started out as a fan. Pro wrestling was a part of my life since I was in elementary school. My first wrestling memory is seeing Sting with his old-school face paint. In 5th grade I started amateur wrestling, mostly because I thought it would be like what I saw on TV. At my first practice I put another kid in a Boston Crab. I continued amateur wrestling through high school. I also played seven years of football," Langley said.
After school and still looking to fulfill that athletic itch, Langley decided to pursue his lifelong dream head on.  "I started training in February of 2011. The man who introduced me to the business was a wrestler named Angel Skycall. He showed me some of the basics and was kind enough to allow me to travel to a few shows with him. I would not be where I am in this business without his initial guidance.
"In April of 2011, I started training full-time with 'The Good Reverend' Chad Sullivan at his Rings and Cages training center. This time constituted most of my formal training and I credit The Rev with really giving me my real start as a performer. About a month after I started training with Chad, a young blond kid named Graham [Bell] joined the school. I would have my first match on June 4th, 2011," Langley remembered.
The training with The Rev, combined with Langley's own athletic past makes for an impressive combination in the ring.  "I feel that I have a pretty well-rounded style that helps me compete with any opponent. I guess you could call it 'American Cruiserweight' if we need to have a label for it. My amateur background definitely shows in my mat game. Being technically sound has always been very important to me, but it would be a mistake to label me as a purely scientific wrestler. You need to be able to do it all to a certain extent. I'm always adding new strikes and high-flying moves to make myself more dangerous to any opponent."
Langley's "American Cruiserweight" style was also molded after one very important international star. "First off, Steve Austin will always be my all-time favorite. I'm sure that's a very common answer. His connection with the audience is something we all aspire to in our craft.  My first favorite, however, was Ultimo Dragon. I always loved his well-rounded, fast-paced style. The flashy costumes and his killer moveset in the 'WCW vs NWO World Tour' video game didn't hurt either. And as you can probably tell from my entrance jacket, I've always loved the Road Warriors."
Like Ultimo Dragon, Langley wrestles a high impact, dangerous style.  And although Langley has been lucky and not suffered any serious injuries it's a reality that every pro wrestler has to deal with.  "There's always the threat of something catastrophic happening. It's something you have to put out of your mind in order to perform."
Langley's biggest hurdles to leap over so far have been when it concerns his friends and loved ones and the time management that every wrestler must juggle.  "The travel and time investment is the biggest thing for me. It puts a strain on your relationships outside of wrestling.  Even if the people you love understand why you can't always be there, it still changes your relationship with them. It forces you to make the most of the time you are able to set aside for those people.  All of these challenges test your mental toughness."
Langley's mental toughness is matched by his physical toughness as he and his tag team partner Graham Bell offer the wrestling audience a diverse style, with various methods and approaches all meshed into one cohesive unit.
"Our tag finisher is called Kirisute Gomen. I hold the opponent up in a fireman's carry, Graham superkicks their head, and I drop them with a Death Valley Driver. The name is a reference to a samurai's right to cut down anyone who challenged their honor. We chose it as a reminder to never back down from any fight. Literally translated it means 'Don't mind me while I cut your head off.'  In singles competition I use a Death Valley Driver onto my knee. It's called the Manhattan Project," Langley added.
Langley's take on singles versus tag team wrestling sheds some light on the different mindsets that most fans don't even notice when a match is going on.  "They're totally different. They're almost separate sports. I don't think either of us expected to be a full-time tag team when we were training together, but it's something I've really grown to enjoy, especially in the last year. Tag wrestling requires you to worry about so much more in terms of positioning and ring awareness. It's way more complex than just adding two bodies to the match. It's a lot more mentally taxing, but it's that much more rewarding when it's done well.  Singles matches are a lot more clear-cut. Win or lose, you have no one to blame but yourself. The things I loved about other sports in my past I get to enjoy in pro wrestling. Camaraderie and teamwork, learned and loved in football, used in tag wrestling; individual effort and grit, used in singles matches."
The KC Wolves have cut a swath or excellence across the heartland of America as they have collected numerous championships and left their mark on every promotion they have ever stepped foot in.  "Graham and I have been Tag Champions in Kansas Championship Wrestling, Steel Rage Pro Wrestling, and United Wrestling Entertainment. We were also voted Tag Team of the Year in Oklafan's 2013 year-end awards, which was pretty cool. We've had an opportunity to wrestle in Falls Count Anywhere, Ladder, and TLC Matches, all of which were uniquely special."
2014 is shaping up to be the KC Wolves biggest year ever as they are already vying for the IZW Tag Team Titles (the envy of the whole territory) in less than a week at "Violent Valentine" on February 1.  For some, the pressure of taking on What Wrestling Should Be (Jermaine Johnson & Jordan Jacobs) is a daunting thought, but Langley remains calm, cool and collected when talking about their upcoming scrap.  "Our very first match in IZW was against them [WWSB], and I think we showed we're not a team to be taken lightly. We almost defeated the Tag Champs in our debut, and we're going to prove it wasn't beginner's luck. I also have a singles win over Jordan Jacobs, something I'm sure he hasn't forgotten."
Langley believes IZW is the perfect home for the KC Wolves as there are multiple challenges up and down the roster and IZW offers a platform that no other Independent company can match.
"IZW has the deepest roster of talent of any promotion we've been a part of.  I feel like I can have a great match with anyone in the locker room. Its production is fantastic, virtually without peer at this level of wrestling. The most admirable aspect is the way ownership consistently makes changes to keep improving the product. IZW has a bright future because they are never satisfied with the status quo.
"As a wrestler, you want your work seen by as many people as possible. Literally anyone in the world with a computer can watch IZW [on GFL.tv]. That alone should be reason for anyone to want to work here," Langley added.
There is a synergy with the KC Wolves, where the whole is greater than the sum of its parts, which makes them a cut above the rest.  "Graham is an absolute delight to team with. We're similar in lots of ways in terms of in-ring style, but not remotely clones of each other. He has more natural athletic ability in his little finger than I do in my whole body. He gets labeled as the team's high flyer while I'm usually pegged as our ground attack. To some degree that's true, but we're both well-rounded enough to make us a difficult match-up to prepare for. Honestly, I probably spend more time on the top rope than he does. He just does springboards, flips and other things that require grace and balance, whereas I tend to just climb up top and then fall with style. You'll see him use more agility-based moves, while I tend to use a bit more power in my arsenal. Our double team moves have been our bread and butter, and it's because we seem to have a natural knack for timing and positioning with each other. I don't even think about what Graham is doing, I trust him to be in the right place at the right time.
"Outside the ring, we're actually quite different. He tends to be the more outgoing of the two of us. My personality is more reserved. Sometimes he's quick to shoot his mouth off and I have to be the voice of reason, but he always means well.  I help reign in his goofier side and he helps to coax me out of my shell. Sometimes it almost feels like I'm his older brother in some ways. Our taste in almost anything pop culture is usually quite divergent. I made him listen to an entire Avenged Sevenfold album, one from before they sucked, during a 17 hour road trip and I'm sure it was hellish for him. Ultimately, we've spent enough time in a car together to find that we usually agree on the important things in wrestling and in life. As an added bonus, it's great to have a partner who is always working so hard to improve himself, because it forces me to elevate my game even further," Langley added.
For those who want to learn more about Luke Langley and the KC Wolves there are plenty of social media sites to connect with.
https://www.facebook.com/lukelangleyMD
https://www.facebook.com/kcwolves
Twitter: @LukeLangleyMD
"We're past the point of 'making an impact' or trying to establish ourselves. We aren't just happy to be here. We're a well-oiled tag team machine and we expect gold around our waist soon. Some might call that cocky, we call it confidence. With the support of The Pack, the sky's the limit for us in IZW.
"Join the Pack!  Reach out to us on Facebook or Twitter. Tell us where you want to see us next and what kind of KC Wolves merch you guys want and we'll make it happen. Also, whatever Graham tweets or posts is solely his opinion, so don't come asking me for an explanation," Langley joked.
by Drew Archer
In PART 2 of my interview with one half of the KC Wolves, Graham Bell, we delve into Bell's career highlights, IZW and much, much more.
When the subject of tag versus singles wrestling comes up, Bell holds both crafts in high regard and believes they both have a place in the sport.  "Oh man, there's such a world of difference between the two I couldn't even begin to describe the differences. At first I didn't care for tag team wrestling as much, but the more I learn and the better I get, the more I love it. I don't think I have a preference though because it's such an apples to oranges thing. They're two completely different beasts."
Although Bell is fairly new to the IZW World, he has worked in the Mid-South area and surrounding territories where he has picked up a multitude of titles both with tag team partner Luke Langley and as a singles wrester.  "Luke and I have won the KCW, SRPW, and UWE tag team titles. The KCW belts were the very first titles for either of us, and we got them only nine months into our career. I've also held the SRPW United States title. A lot of the highlights aren't title related though. There are a few milestones that stand out. Our first hardcore match in La Cygne, Kansas against Chris Wyco and KC Kyng, The Midwest Marvels. Our first ladder match. Growing up watching the Hardys, Edge and Christian, and the Dudleys made this a bucket list thing. It was extra cool, because it was three teams just like they had. Then we had our first TLC. It was good to get some revenge, because we beat the team that screwed us out of victory in the ladder match. It was also where we won the UWE tag team belts.
"Probably my favorite match so far though has been the KC Wolves versus The Work Horses:  Jon Cross and Chris Fury. When we started making a name for ourselves in Oklahoma a lot of people drew comparisons between us and them. It was a match we wanted, they wanted, and the fans wanted. We honestly weren't sure it was ever going to happen, because independent wrestling is so unpredictable. The stars finally aligned last June though. It was a pretty incredible match, and I'm still proud of it. We're all waiting for the rematch though. It ended in a time limit draw and nothing was settled. Just having the match was a huge highlight for me though.
"Oh! And, we beat out a certain tag champs for the title of Oklahoma Tag Team of the Year. That's pretty sweet," Bell added.
That certain tag team is IZW Champions, What Wrestling Should Be.  Not only the top two teams in IZW, but the top two teams in the Sooner State are less than two weeks out of what could very well be the best tag team bout in all of 2014.  Bell is amped up for the match and believes he and Langley are ready for the challenge.
"Ya know there have been some scheduling issues and the KC Wolves haven't been able to make it down to Lawton in a few weeks. So you can imagine I was a bit surprised when I saw the commercial for 'Violent Valentine' and saw we were named the #1 contenders to the tag team titles. I'm giving credit to [Co-Commissioner] Shawn McHale for this one. I'm guessing he wants to see if we can live up to being Oklahoma Tag Team of the Year, and I assure you, we will. Those belts are comin' home to KC with us," Bell promised.
As Bell sets his sights on the showdown with WWSB at "Violent Valentine" on February 1, and the biggest match of his young career, he looked back at some of the sacrifices it took to get to where he is.  As a pro wrestler still working his way to the top of the sport, it's a daily grind and takes a toll on each and every individual in the business.  "Just be smart about your money. I accepted a long time ago that I don't get 'runnin' around money' anymore.  Everyone cent I have goes into wrestling in some way. That might be paying for a seminar. It might be buying new gear. It might be replacing the water pump on my car, because I have to be able to travel. And there's always unexpected expenses so any extra money I end up with I hang on to.
"Man, it's expensive. Being an Indy wrestler takes money. When you're startin' out you take bookings where ever you can, and you go with whoever will take you.  A lot of times that means driving three or more hours for no pay. But you have to be willing to take those chances to get a foot in the door. I've worked for some pretty awful places for no money, but everything I've done has lead me here [IZW]," Bell said.
As for IZW, Bell puts it bluntly.  "How big of a deal is it that WWE broadcasts around the world? It's a huge deal [IZW and GFL broadcast partnership]. Name three other independent promotions that broadcast there product globally.  From top to bottom it's ran like a promotion should be. Its future looks pretty bright to me. They've got the most complete roster in the state. There are no weak points or underachievers. That makes for some very competitive, and therefore entertaining, matches. And that's what fans want.  With IZW's roster being as stacked as it is with great talent that's harder than it's been anywhere else. The KC Wolves welcome that challenge though. We don't wanna grow complacent, and we wanna show everyone that no matter where we go we are the very best. We're still getting our footing and proving ourselves at IZW, but winning the tag team titles at 'Violent Valentine' will be a good start to that."
Part of Bell's confidence going into "Violent Valentine" and challenging WWSB (Jermaine Johnson & Jordan Jacobs) is because of the assurance Bell has in his partner, Luke Langley.  "I think we're a very good Yin Yang. We're two very different dudes, but we've got a good chemistry. It's hard to describe. Like, if we had met outside of wrestling I don't think we would have become friends. We've got different backgrounds, have different personalities, different tastes in music, and different in ring styles. But training and traveling together has definitely built a bond. Once you kinda get underneath the surface with us you find that despite all our differences we've got a pretty similar world view. That bonds us, and our differences complement each other very well. It's apparent in our in ring style. He's much more grounded and technical than me, and I fly a lot more than him. He can tie a guy up all sorts of different ways and hold him there. That's when I come flying in with a big move. His holds may not always be potential submissions, but he takes the risk out of some of my high risk and we both benefit.
"It translates to backstage too with our personalities meld. He's a quiet reserved guy, and I'm loud and out there. I'm usually the one who will speak first and talk with people and get us bookings. On the other hand, I tend to be a real smart ass sometimes, and I don't mind calling people on their bull$h!t. Luke's had to reel me in a couple times and be the voice of reason, and because of that we've still got connections in places we might not if he hadn't made me keep my mouth shut," Bell chuckled.
"It affects everything though, and that's why we're as good as we are. We're a team in the ring, backstage, on the road. We talk about moves, strategy, what places we should and shouldn't work at, and we've been very successful because of it. He's probably gone places and tried things he wouldn't have if it weren't for me, and I'm sure his voice of reason has kept my ass out of a lot of trouble. Like I said, we're a very good Yin Yang," Bell said.
For those who want to learn more about Graham Bell and the KC Wolves there are plenty of social media sites to connect with.  Join the Pack here:
https://www.facebook.com/GrahamBellDingDong
https://www.facebook.com/kcwolves
https://www.facebook.com/lukelangleyMD
Twitter:  @GrahamBellWPE